Safariland has been in the holster game for quite some time now and has established itself as an authority in the industry.
They are world-renowned for their holsters and gear used by Law Enforcement and the Military.
When they released a new line of IWB holsters, I was skeptical that they would be any better than what was already on the market. Boy was I wrong.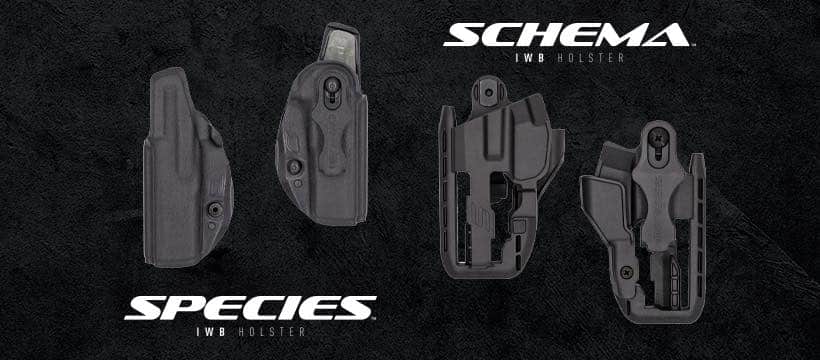 Both the Schema and Species IWB holsters are, in my opinion, the two best IWB holsters for sub-compact pistols such as the Glock 43x or Sig P365.
Safariland Schema Holster
The new Safariland Schema holster is now my primary concealed carry holster for my Glock 43x.
Not only is the minimalist design perfectly executed, but you can adjust the holster's ride height, allowing you deep conceal in literally any clothing. I adjust the ride height in the summer months to keep my 43x concealed deeper when wearing board shorts and a t-shirt.
In the Winter months, I adjust the ride height to bump the gun up just enough to give me a solid grip after clearing multiple garments.
Schema is currently available for the Sig Sauer P365, P365XL, Taurus G2C and G3C, Glock 43 and Glock 43X, and Springfield Armory Hellcat.
Features
A skeletonized body provides optimized comfort and concealability
Minimalist design is purpose-built for IWB (inside-the-waistband) carry
A reinforced mouth allows the firearm to be reholstered while the holster is worn
Adjustable cant and vertical mounting enable customized placement
The firearm-specific design creates a secure fit
Integrated passive trigger guard retention adds positive retention
Trigger shields increase safety during wear and draw
Additionally, the Schema is optic-compatible and will work with Romeo Zero, RMR CC, Shield RMS, Shield RMS-C, Swampfox Sentinal, Hex Wasp, Holosun 407K, Holosun 507K, J-point, Crimson Trace 1550, or similar optics.
Safariland Species Holster
Much like the Schema holster, the Safariland Species is a game changer.
It uses the same adjustment system but is a more minimalist design.
I've always been an appendix carry person. Carrying at 3 or 4 o'clock was always uncomfortable and printed too much for my liking.
When I got my hands on the Species holster, I thought it would just get thrown into the box with all the other holsters I've tried over the years.
I'm happy to report that the Species is now my primary holster for carrying in the 3 or 4 o'clock position. It's the most comfortable IWB holster for that type of carry that I've ever tried.
Features
SafariLaminate™ thermal-molded construction for superior durability and longevity
Suede lined for improved firearm fit while improving the handgun's finish
Minimalist design reduces bulk in key areas for ideal IWB (inside-the-waistband) appendix style carry
Integrated passive trigger guard retention allows for a personalized feel during the draw and reholstering.
Adaptable tension device allows for tailored firearm tension and fit in the holster
Fully cantabile and vertically adjustable mounting clip for wear comfort
Fits standard 1.5" (38 mm) belt widths
Is Safariland a good holster?
Safariland holsters have a solid reputation with law enforcement and the military. Its new line of IWB holsters has made a bold statement in the concealed carry market. The bottom line; they're great holsters.
Does Safariland make concealed carry holsters?
Yes! For sub-compact pistols, the new Schema and Species concealed carry holsters are the best on the market.
Conclusion
You can really tell that Safariland put time into research and development with this new line of IWB holsters.
Even with the crowded concealed carry holster market, Safariland has managed to disrupt things with the Schema and Species.
Not only is each Safariland IWB holster well thought out and designed, but the price point is extremely competitive. For under $50, you've got yourself one hell of an IWB holster that's going to last a lifetime.
*This article was originally published on the Clandestine Media Group blog.
---
Stay Tuned to the RE Factor Tactical Blog and be part of this all VETERAN-run website. Be sure to follow us on Facebook, Instagram, and LinkedIn for exclusive content and deals.
Check out our DAILY DEALS page for industry deals and discounts.
Visit our Amazon Influencer Page for more products we recommend: https://www.amazon.com/shop/refactortactical