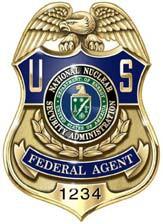 The guy on the bike or Segway running mail and memos between city offices, most likely.  But there's another kind of Courier running around out there, and their job is a lot cooler than moving mail.
Since the development of the atomic bomb, the nation has needed a way to securely move special nuclear materials throughout the country.  This tasking falls to the Department of Energy, and since 1975 has been handled by the National Nuclear Security Administration's Office of Secure Transportation (NNSA OST).  Federal agents working for OST, referred to as Federal Agent (Nuclear Materials Courier), are the boots on the ground for this extremely delicate undertaking.  So what do these couriers do?  Well, according to USA Jobs and the OST's recruiting site:
 "As a Nuclear Materials Courier, you:
 – Serve as a member of a highly specialized armed protective force that is responsible for the safe and secure transportation of classified and/or hazardous materials including nuclear weapons, components, test assemblies, and strategic quantities of weapons-grade special nuclear materials. This involves the operation of Government-owned motor vehicles, including tractor-trailers.
 – Integrate many processes and methods in the fields of security; health and safety; emergency management; and law enforcement, including tactical operations to respond to a multitude of possible natural and/or man-made threats to the safety and security of sensitive, dangerous, and extremely valuable cargo.
 – Participate in security planning prior to trip departures; assess multiple issues and factors related to shipment security during convoy operations; coordinate with other Federal, state or local law enforcement agencies and first responders concerning the investigation of potential criminal or terrorist acts or activities that could be considered a threat to the mission.
 – Will be armed to provide the force necessary, up to and including the use of deadly force, to prevent theft, sabotage or takeover by unauthorized persons or groups. Respond quickly and effectively to environmental, resource, and safety and security issues that may arise unexpectedly in the course of mission operations."
So, to sum it up, they are responsible for making sure that the materials no one wants to see in a terrorist's hands stay out of said terrorist's hands.
What does it take to be a courier?  Heading back to USA Jobs:
"A qualified candidate's online application and resume must demonstrate at least one year of specialized experience equivalent to the next lower grade level (GS-7 or equivalent) in the Federal service. Specialized experience for this position is defined as:
Experience in performing high-risk armed tactical security work while serving as a member of a tactical team responsible for employing small arms and maneuvering against a hostile adversary to protect property against the hazards of fire, theft, accident, or trespass; maintaining law and order; protecting lives; or similar duties; AND using effective communication skills in person-to-person contacts in order to successfully execute the described work.
Examples of such experience may have been gained in the armed forces, Coast Guard, or other Federal, state, local government or private security organizations, performing such work as: Armed security patrols; Armed convoy operations; rapid response force operations; or other work involving high risk, teamwork, weapons proficiency and tactical maneuvers such as SWAT/SRT."
US Military Drops MOAB in Afghanistan
If you can demonstrate that your expertise is what OST is looking for, you may get a chance to attend their 21-week Agent Candidate Training conducted at Fort Chaffee, Arkansas, and Glynco, Georgia.  During this time, agent candidates will spend countless hours learning to shoot, move, and communicate, drive tractor-trailers, and "other required field and classroom instruction."  Upon graduation, couriers are assigned to Albuquerque, NM; Amarillo, TX, or Oak Ridge, TN.  As many as 3 weeks out of every month are spent on the road.  Once on the job, couriers are required to complete annual training, pass a PT test, and pass Human Reliability Program requirements every year.
Couriers travel in civilian clothes in specially designed government vehicles, including tractor-trailers.  Very few details are available about their vehicles given their specialized mission, but OST will say that the tractor-trailers are so advanced that even if the drivers are disabled, the truck will continue to defend itself.
If this interests you, OST is hiring.  Read up on the requirements here, and then head over to USA Jobs and apply!
About the author
Joel is a 12 year veteran of the US Coast Guard, where he has served at various units including the International Training Division and Maritime Security Response Team. He has held qualifications including Deployable Team Leader/Instructor, Direct Action Section Team Leader, and Precision Marksman – Observer. He has deployed/instructed on five continents and served in quick reaction force roles for multiple National Special Security Events in the US. He is the owner of Hybrid Defensive Strategies, LLC in Chesapeake, VA, and can be contacted on Facebook and Instagram. Any opinions expressed here are solely those of the author and do not necessarily reflect the opinions of the US Coast Guard or the US Government.