It's early morning, and a gobbler answers your cuts and purrs and soon he double gobbles to every note you send his way.
He's coming, and then you see it—that red, white, and blue prominent gobbler head. The gobbler appears to be floating as he struts nearer. With a well-placed blast from the shotgun in your hands, the gobbler is on the ground, and now the work begins.
Did you remember to bring a sharp knife?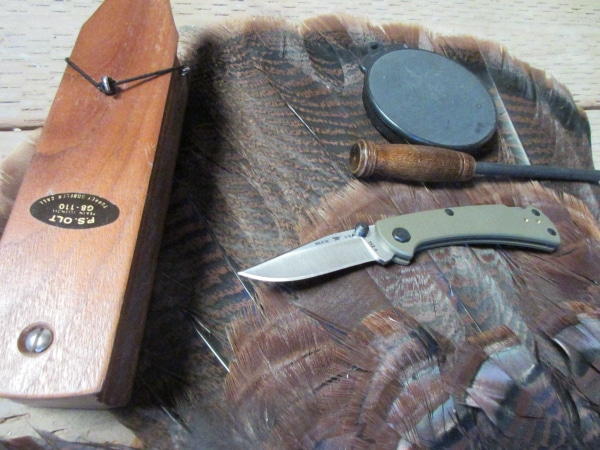 Buck Knives Hunting Knife Selection Guidelines
Hunting season will open in many regions of America in less than 60 days. Are you ready? If you are thinking about purchasing a new knife, then these tips by industry-leading knife manufacturer Buck Knives will aid you in that selection.
Selecting the right knife to hold in your hand begins with answering a basic question: What cutting chore are you trying to complete? You should also consider several features of the knife, including the materials used in building that knife and the many safety designs of the knife. A knife designed to properly skin a deer, like a broad and curved skinner blade with a gut hook on the back of the blade, is far different in shape and purpose than thin and sharp-pointed designs like a drop point or the thinner clip point blades which would work well for capping a deer around the antlers or for precisely breasting an upland bird. Answer the primary question of what will you be cutting most and you are on the trail to selecting the best knife for your hunting chores.
Next, look at the materials the knife blade is built from. For example, S30V is a high-vanadium steel that provides lasting toughness and great edge retention along with superior wear and rust resistance. Knife blades made with S30V steel, however, can be a little more difficult for some users to sharpen. Another common blade building material is 420HC which offers medium-carbon in stainless steel so it is corrosion resistant. On the other side, it is generally easier for most knife users to sharpen because it has a lower hardness than some other types of steel and provides good edge retention. Next, determine how the blade is heat treated. Buck's famous Bos heat treating process ensures the blade is durable and ready to perform.
Next, grasp the knife's handle and look at the overall construction. While many buyers and knife users prefer micarta and rubber handles for better grip when wet, and many knife owners also like wood for its looks and durability. Note, does the knife handle feel good in your hand?
Next, decide if you like a fixed-blade design—like Buck's popular 120 General Knife— and for the knife to hang on your belt in a sheath, or if you prefer a compact folder design—like the iconic 112 Ranger Knife—that will go into a pants pocket or small day-pack space. For fixed blade knives, look at the blade guard between the handle and blade and in a folding knife study the mechanism for locking open—and closed. Some of Buck's folding-knife design options are the lockback, liner lock, and framelock to name a few. All offer important features.
Best Turkey Hunting Knives
From notching a turkey tag to removing the tasty turkey breasts and drumsticks, a knife—make that the right knife—makes your field and butchering chores much easier. The good news is you have many great options to prepare for the meals in your future.
First, decide on a fixed or folding knife. A fixed blade knife is easier for many hunters to use and is easily secured in a sheath to be stored in a hunting pack or vest. Take a look at Buck 105 Pathfinder Pro Knife or the Buck 102 Woodsman Heritage Series Knife with classic Cocobolo wood handles.