A trigger pull gauge has often been thought of as a niche item or something that's cool to have, but no one really needs to own one. Finding the best trigger pull gauge is important for gun owners and gunsmiths. Whether you're new to it or a vet, these gauges are great for every level.
I'm here today to show our readers why I believe it's important to have a trigger pull gauge if you have a gun collection. Understanding your trigger pull will not only give you more confidence in your gun, but it will help you understand what your comfort and physical limits are.
What is a Trigger Pull Gauge?
A trigger pull gauge is a tool that will tell you exactly how much pressure it takes to pull a trigger. There are dozens of trigger pull gauges on the market, but I wouldn't use most of them because of the consistency issues expressed by the reviews.
There are 2 types of trigger pull gauges that you can use for any gun; a mechanical and digital gauge. A mechanical gauge has been around for a few decades, but the design and size have been drastically improved. A digital trigger pull gauge is one that has been perfected as recently as a decade ago, but they're normally much more expensive.
Which Type of Trigger Pull Gauge Should I Buy?
A mechanical trigger pull gauge uses a calibrated loaded spring mechanism to show weight in terms of pressure. A mechanical gauge is often much cheaper, but it's also a little more difficult to use and less consistent than a digital gauge. You can get any mechanical trigger pull gauge for less than $40, so if you're struggling with how much you can spend, then a mechanical gauge is going to be right for you.
The digital trigger pull gauges are more expensive ranging anywhere from $50-$100. Digital trigger pull gauges are easier to calibrate and use for the majority of gun owners. I highly recommend getting a digital gauge to keep things simple and have more confidence in your readings.
Best Digital Trigger Pull Gauges
I've chosen 2 trigger pull gauges that I've either owned or operated and highly recommend. My favorite is from a company many of us know by now, called Wheeler. Wheeler specializes in basic and advanced gunsmithing tools and AR-15 rifle builds. There are many companies that have trigger pull gauges and use it as 1 of their 100 items in their stock, without much thought or time spent on building a high-quality product. I chose Wheeler because they put an incredible amount of effort into every product I've owned from them and their customer service is excellent.
Wheeler Digital Trigger Pull Gauge
There is no trigger pull gauge better than the Wheeler Digital Trigger Pull Gauge and you can find it as cheap as $56.00 on Amazon. From the time you open up the box and see the calibration card with the name of the tester and the variance of the tool, you'll be sold. Very few companies put the time into their product to give you a card with the exact employee that performed the quality control and the variance of the tool. Frankly, this step takes time, effort, and money, but as a consumer, I appreciate it a lot.
As far as the gauge, it will read any trigger pull weight from 0-12 lbs of force. The screen also shows you a minimum, medium, and Newton reading. I'm no physicist, but according to the Encyclopedia, a Newton "It is defined as that force necessary to provide a mass of one kilogram with an acceleration of one meter per second per second." In short, Newton is the measurement that fits the physics that is involved with pulling a trigger. Understanding this measurement probably isn't going to make a huge difference, but it's worth knowing for gunsmiths.
Does it Work With Double-Action (DA), Single Action (SA) Triggers?
Yes, the Wheeler Trigger Pull gauge works great with both DA and SA triggers. The best way to ensure it works well with a DA trigger is to go very slow at the start until you feel the resistance of the trigger. Once you feel the resistance of the trigger, slowly keep pulling until the trigger pulls and record your reading. What I really like, and you can see it in the video is the audible indicator tone that goes off as the trigger sets.
Does it work on Glocks & Other Striker-Fired Pistols?
One of the coolest features of this tool is the little adapter you can place on the trigger pull gauge that catches the blade on the trigger to ensure the safety mechanism is released (Look at the picture below). Many other trigger pull gauges don't have an adapter to catch the trigger safety blade on my Walther PPS M2, but Wheeler has an adapter that is incredibly easy to use and remove.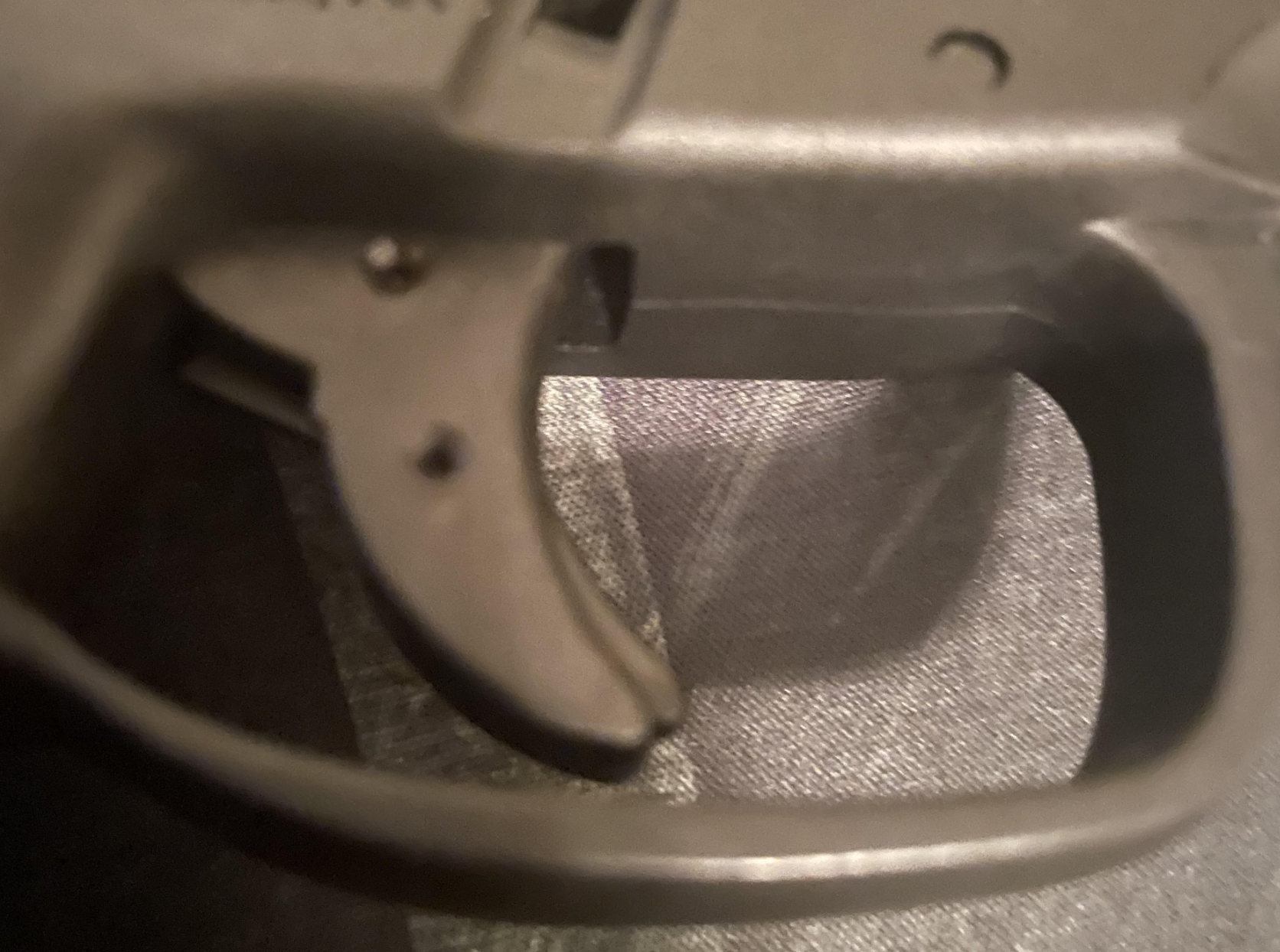 What are the 2 Modes for the Wheeler Digital Trigger Pull Gauge?
Another great feature of this tool is the ability to use 2 different modes; peak mode and live mode. I prefer to use the live mode because it shows the trigger pull at all times when depressed against the trigger. This allows me to use it with my Glock 19 and Walther PPS M2 and see what the initial resistance is and what the final trigger pull weight is.