For those who've read many of our blogs, you know that we are a small team of like-minded veterans that prides themselves on creating unique and practical content for our readers.
We're very fortunate to have an office that is full of American war veterans that have worked with every imaginable gear or tool you can think of. We've built connections through our time in service and now as businessmen/women. 
Those connections have allowed us to speak with current & former soldiers, competitive shooters, and veteran reloaders to find the best reloading supplies. There has been a consensus on where to buy your reloading supplies and which brands are the best, according to the pros.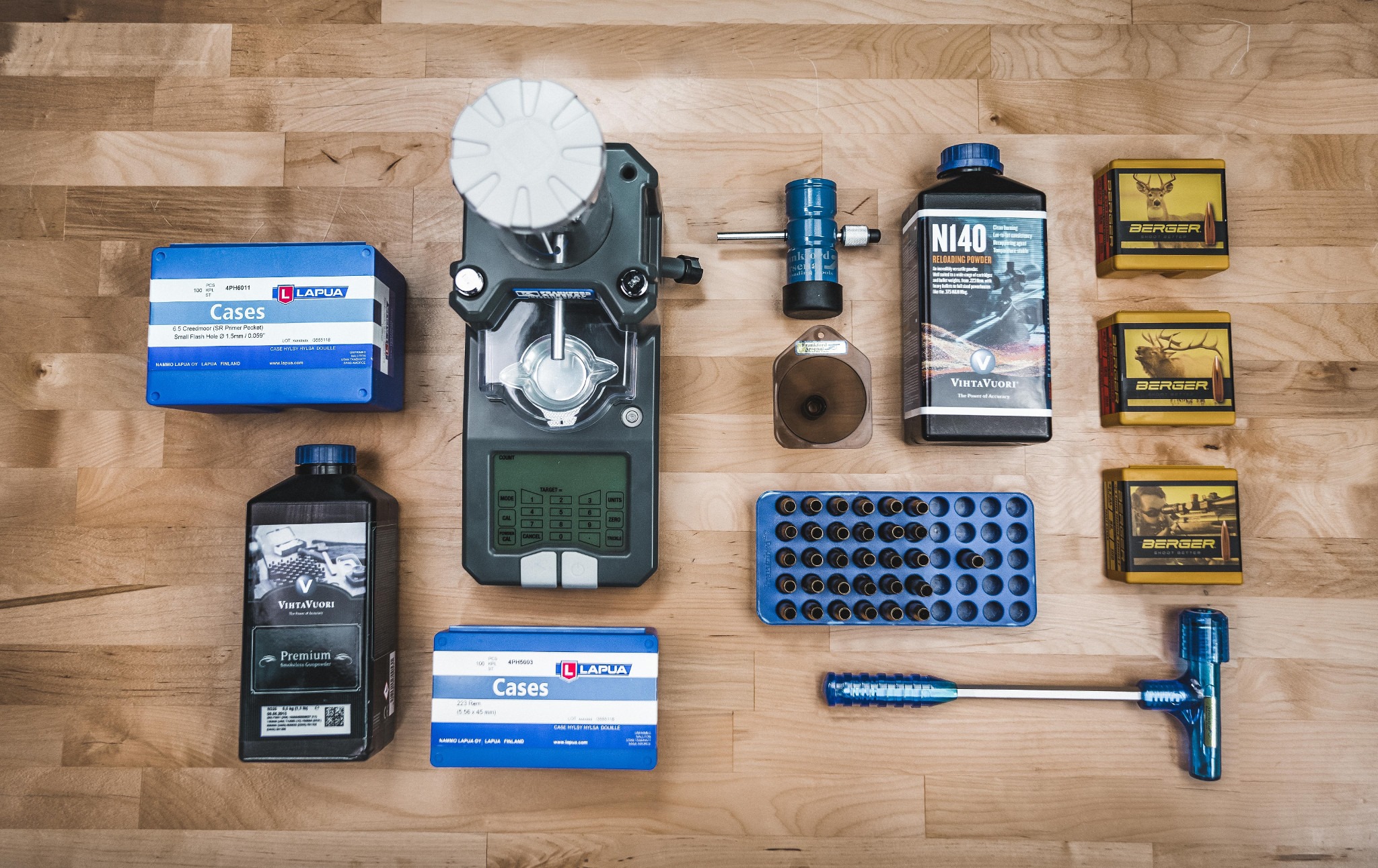 Which Reloading Supplies Should I Buy?
There are so many different reloading supplies with different calibers, materials, and uses, that it's impossible to cover everything in one blog. However, for a quick understanding, refer to our Ultimate Beginners Guide to Reloading Ammo blog. 
Since it would be pointless to buy powder, primers, brass, and bullets, and not have the tools to create ammo, we need to make sure you have the proper reloading tools to turn raw materials into ammo you can use. 
Powder Measure
Reloading Press
Primer tool
Cleaning Brass equipment
Gun Powder
Primers
Brass
Bullets
How Do We Determine the Best Reloading Supplies?
We try our best to give our readers the most insightful and authentic content on the internet. We want our readers to know that we don't make these decisions easily and believe everyone should know what we look for in a product before we highlight them. 
Availability
If a product isn't available in more than a couple of places, we have to take that into account. There are so many products that I love, but I can't get them because only 1 place sells them and they're always out of stock.
With that in mind, all of our products that are listed below can be found at several store-fronts and online stores with varying prices to compare and contrast.
Shipping
One of the most overlooked costs associated with any product is the shipping costs. If you don't believe me, just ask Amazon what Amazon Prime has done for their business.
When shipping costs are more than the product you're buying, it seems like we're being taken advantage of. Just like everybody else, we hate being taken advantage of by a company that we spend money at. For this reason, we found the best places that offer either free shipping or discount shipping costs.
Price
Fortunately for our readers, you don't have to spend hours researching the best prices on reloading supplies. I literally get paid to do that for you and purposefully displayed all prices associated with each product. This will give you the best chance to compare and contrast and find the best price possible.
Which Companies Do We Trust to Buy From?
There are obviously other companies that we will buy from, but these companies have sold us the most consistent, reliable, reloading supplies. As of now, I have never had an issue with customer service from many of these companies listed and get what I ask for each time. 
Brownells
Brownells is a company that every gunsmith from the newest amateur to the most veteran of gunsmiths and reloaders. We've written extensively about who Brownells are and why you should buy from them. Every time I need powder, brass, and bullets, I look on Brownells first. 
I like Brownells because they have built an outstanding reputation in the gun community for the last 80 years. Maybe I'm just a softy for American companies that make it and do it the right way, but regardless, I always trust them when I buy their products. 
Pros
Brownells stands by their products with guaranteed satisfaction

One of the largest supplies of reloading supplies online

They restock faster than many other companies

One of the best customer service departments I've ever dealt with

Free shipping on most orders over $50.00 (Powder is listed as Hazmat, so there are always shipping costs).
Cons
Prices are above average in most cases

Shipping can take longer than average (depending on product and weight)
Sportsman's Warehouse
If you've never been to a Sportsman's Warehouse, you should go as soon as possible. It's like Dicks Sporting Goods, but more affordable and better customer service. As Dicks Sporting Goods and Cabelas are moving away from selling certain guns and ammo, Sportsman's Warehouse has stayed steadfast with selling the guns, ammo, and reloading supplies that we need. 
Sportsman's Warehouse has a huge selection of powders, bullets, and brass listed at a competitive price. Everything you'd ever need for a hunt, they have on their shelves, ready for you to try it out to get a feel of what you're about to buy.
Pros
Massive selection of reloading supplies

Competitive Pricing with everything they sell

Shipping is free for any order over $49.00

Great customer service

Great response to notifications

They restock frequently
Cons
Availability isn't the best most times online (better in-store availability)

Only standard ground shipping is free, but that's common
Kentucky Gun Company
Pros
Massive selection of reloading supplies

Competitive Pricing with everything they sell

Shipping is free for most items 

Great customer service

Great response to notifications

They restock frequently

Shipping always arrives on time and in great packaging to protect my guns and gear
Cons
Availability isn't the best most times online

Shipping fees seem to be inconsistent and hard to know which item has free shipping
What is the Best Place to Buy Powder Measure?
There are a few places that I prefer to buy my gunpowder from, including Brownells, Sportsman's Warehouse, and Kentucky Gun Company. As every gun owner and reloader knows by now, it's incredibly difficult to find the correct gunpowder for your gun right now. 
Amazon has the best price for the Intellidropper with an incredible price of only $171.99.