When it comes to robust red dot optics, the Aimpoint T1/T2 seems to always be at the top of the list, and for good reason; they are simple to use, extremely robust, and always work when you need them to.
Aimpoint announced a new optic, the Aimpoint Duty RDS, that looks a lot like the Aimpoint T1/T2, but with a much nicer price point of $499.
Aimpoint says this compact, high-grade reflex optic was designed to meet the demanding needs of the modern law enforcement officer.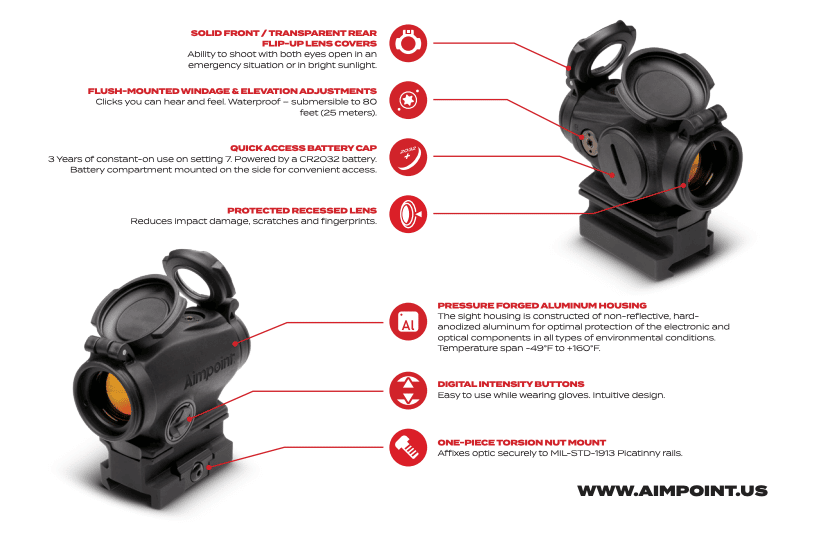 Aimpoint Duty RDS Accouncement
Aimpoint, the leading manufacturer, and innovator in red dot sighting technology is pleased to continue the product release of the revolutionary Aimpoint Duty RDS sight – now available to all markets through authorized Aimpoint dealers and at aimpoint.us.  Built to meet the demands of today's law enforcement agencies, this high-grade reflex optic offers Aimpoint premium product quality in a compact package at a budget-friendly price point.
With an exclusive law enforcement launch in January of 2022, the optic has quickly set a new standard in its category with proven performance. Packed full of new features, this completely new design from Aimpoint does not compromise on trusted legendary quality while achieving affordability.
The Duty RDS™ offers a bright, crisp 2 MOA dot that's ideal for short to medium-range target engagements and is powered by a single CR2032 battery with ACET technology providing over 3 years of constant-on use at daylight position 7 and even longer on the night vision compatible settings.
You can find the Aimpoint Duty RDS for sale on the Euro Optic website.