There's nothing quite like the freedom you feel riding down the road on your brand new motorcycle until you wreck it and don't have the right insurance to cover it.
If you're a veteran or currently serving, you can get coverage at a better rate or extra benefits, depending on who you go with. Keep reading to learn about the best motorcycle insurance for veterans and military personnel.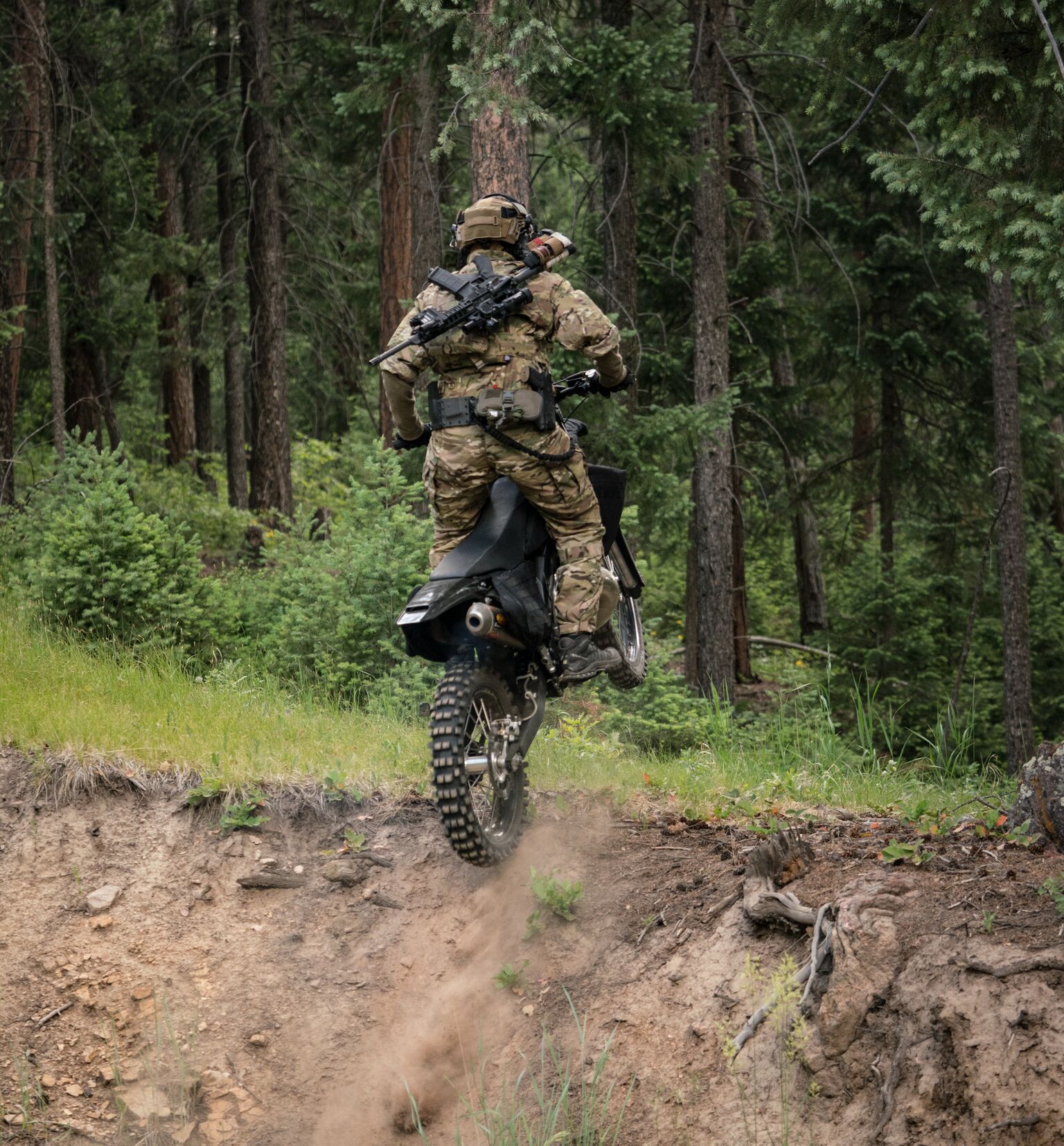 Our Top Rated Motorcycle Insurance for Veterans – Service Members
1. Progressive
We're going to go out a limb here and say, you probably knew Progressive was number one for motorcycle insurance. If you're looking for full replacement cost, meaning your parts don't depreciate, then Progressive might be a company you want to look into. They also offer accident forgiveness, which means if you don't have an accident after four straight years of coverage, your rates won't go up, no matter how much the claim costs Progressive. However, if you do have an accident, but it's a small one—less than $500—your rates won't go up after your first accident either.
Pros
When you renew your policy, you can get a discount—if you never filed a claim
LoJack® devices give you a discount
If you paid all your premiums on time, you can get a discount
Homeowners get a discount
They offer total loss coverage
Full replacement cost is available and no depreciation for parts
Original Equipment Manufacturer (OEM) parts are replaced with OEM
parts and custom parts are repaired with custom parts
Military members can get a discount in some states
Cons
There are several negative reviews about their customer service
They take a long time to finish claims and work hard to try and prove they don't owe you anything
They use your credit score to determine your payment, if you have a bad credit score, you will pay more (This is standard, but not everyone puts as much emphasis on it) 
2. Dairyland Auto-Cycle Insurance
Dairyland's motorcycle insurance is known for being on the cheaper side of coverage. And while that may sound a little sketchy, it doesn't mean they don't provide good coverage. They provide Collision, Comprehensive, and Bodily Injury, as well as Replacement Cost, Rental Reimbursement, Roadside Assistance, and Optional/Special Equipment coverage. They also offer discounts to anyone who's taken the military's safety riding course. Keep in mind, however, Dairyland Motorcycle insurance is a better option for infrequent riders. If you're out riding every weekend or using your bike as primary transportation, you're better off going with a different provider.
Pros 
They offer full coverage, including collision and comprehensive
They offer coverage in 42 states
They cover passengers as well
Homeowners get a discount
They have a pay-as-you-go option
Cons
There are several reviews saying their customer service isn't very good
If you're a frequent rider, there are cheaper options
3. Harley-Davidson Insurance 
If you're looking for motorcycle insurance, why not get it from the people who know all about motorcycles? If you're cruising the streets on your brand new Harley, with genuine Harley-Davidson parts, they'll replace them with those same parts. So, unlike some companies who'll give you the cheapest version of what you need, H-D will do exact replacements.
As far as discounts go, H.O.G members get one, as well as anyone who goes through their riding academy. And if you're deployed while purchasing a H-D, you'll get an additional year of free membership with H.O.G. once you've returned home.
Pros
They've been in the market since 1903
They have an A+ rating
They offer a multitude of discounts
Cons
If you're looking to bundle auto and motorcycle, you can't do it with H-D—but that shouldn't be a surprise
If you want minimum coverage, you can find it at a better price elsewhere
4. Markel
Markel is an insurance company that wants your business, so much that they'll give you a discount just for switching over to them from a different provider. They also offer customized coverage, and since they specialize in motorcycle insurance rather than home, auto, motorcycle, renters, etc., they claim they're able to serve you more quickly.
Pros
They offer accident forgiveness
They offer Roadside assistance
You can save up to 35% with discounts
They offer mechanical breakdown coverage
Cons
Markel offers a lot of discounts, but without them, things get pricey
Several complaints have been filed about Markel not providing the coverage they promised
How much is Motorcycle Insurance
Motorcycle insurance varies from state to state. It also depends on your age, gender, credit score, driving history, location, and any discounts you qualify for. So, giving an exact amount is impossible. For example, if you live in a city where you're more likely to crash or have your bike stolen, you're going to pay more for coverage. However, if you live somewhere in the country where there isn't a lot of traffic and you don't ride very often, your coverage will cost much less. Motorcycle insurance is pretty much the same as car insurance.
Cheap Motorcycle Insurance
Finding cheap motorcycle insurance isn't the hard part. It's deciding how much coverage you actually need. Yes, you can pay almost nothing and have liability coverage only—that's cheap. But, if you crash and total your motorcycle, will it really be that cheap in the end? Luckily, there are plenty of companies out there willing to let you customize your coverage. Most states require liability insurance, but providers are there to help you pick and choose between collision, comprehensive, parts replacement coverage and so much more until you find the coverage you want at the price you're comfortable with.
USAA Motorcycle Insurance
You're probably wondering, why is USAA not at the top of our list, especially if we're talking about what's best for our veterans. USAA is a great bank, insurance provider, loan provider, etc. They seem to always be at the top of the rankings when it comes to anything military/veteran related—which we love—however when it comes to motorcycle insurance, they don't actually provide it. Instead, they outsource to Progressive—who we've listed as number one. However, your best option is to go through USAA to get to Progressive, because you'll get a 5% discount if you're a USAA member.
Other Motorcycle Insurance Providers
Geico Motorcycle insurance
AAA Motorcycle Insurance
Nation Wide Motorcycle Insurance
Allstate Motorcycle Insurance
State Farm Motorcycle Insurance
Motorcycle Insurance Coverage
Liability coverage
Liability comes into play when you're the at-fault driver. In most states, it's a minimum requirement for legally driving a motorcycle. Basically, if you do something stupid, like run a red light and T-bone a car, your insurance can pay for the damage you caused, the medical cost of the other driver and their passengers if need be, and even their lost wages.
Uninsured and Underinsured Motorist Coverage
Pretend for a moment, that not everyone has insurance. Okay, now let us inform you of a small fact, there are a LOT of people out there driving illegally, with no insurance. What does that mean for you? Well, it means if they hit you and don't have insurance, you're pretty much screwed, and not in a good way. Or even if they have insurance, but they don't have enough, you might be stuck paying for the damages. However, let's say you have uninsured and underinsured motorist coverage. If the other driver or rider is at fault, it will take care of what the other person's insurance couldn't. The downside to this coverage, it costs more in states where there are more uninsured individuals, and it won't help in cases where you're the reason the accident happened.
New Bike Replacement Coverage
Have you ever totaled a bike? Then you were left trying to find the funds to replace what you had. This can be a difficult task. Good thing there's something called new bike replacement coverage. This coverage ensures you get a brand new bike, not the depreciation value of the old one.
What is the difference between collision and comprehensive insurance?
Collision insurance helps replace or repair damage to your bike because of a collision with another vehicle or object—no that poll didn't come out of nowhere, no it didn't hit you, you hit it, but yes collision insurance would cover that. Collision insurance does not cover the damage you might do to another vehicle.
Comprehensive coverage is the opposite of collision insurance; it's what you need when you don't have a collision. For instance, say you woke up and your bike was stolen. Comprehensive insurance would help you pay for a new bike. If you out of the bar at 2am and your bike had been vandalized while inside, your comprehensive insurance would help pay to replace or repair it. What comprehensive insurance doesn't do is pay for damaged not caused by a collision. If your bike was stolen, damaged from fire, vandalism or falling objects—such as a tree or hail—then you would need comprehensive coverage to help replace or repair your bike. 
Is it worth it to have collision coverage?
Is it worth it to have good health? I don't know, that's up to you. If you get in a wreck and don't have collision insurance, here's what could happen. Pretend you're involved in a hit and run. You don't have a name, license plate, or even a vehicle description, what you do have is about $5,000 worth of damage. If however, you have collision coverage, you'll be fine, or at least your bike will be. Collision coverage does come with a deductible, talk to your agent to see home much this will be for you.
Is it worth it to have comprehensive coverage?
Again, like most things in life. Only you can answer the "is it worth it" question. I mean, was it worth it when you missed curfew back in '69. Was eating that gas station sushi worth it? We could probably guess the answers, but in the end, only you can decide what's best for you. If that's not a good enough answer how about this one…
Do you live in an area where your motorcycle is susceptible to natural disasters? Do you live in a flood zone? Do you have an inevitable hailstorm every July? If this is you, comprehensive coverage might be worth it. Why, because comprehensive coverage is meant specifically for damage that didn't happen during a collision. Of course, if you own an older bike, it might not be worth it. For example, if it would be less expensive to replace your bike if it was totaled in a flood than it would be to have comprehensive coverage, then you might want to think twice.
Comprehensive coverage also only pays your bike's depreciation value. So, if your bike was stolen the day after you purchased it, you'll only get back how much it's worth, not how much you paid for it.
Can an insurance company cancel your policy?
Yes, it's true; an insurance company can cancel your policy. It's not their fault you're a terrible rider, and they don't want to pay the price because of it. If you're out there getting DUIs, reckless driving tickets, crashing into other riders or drivers, etc., there's a good chance your insurance provider won't want to cover you anymore, because you've become a hazard to their bank account. Simply put, the higher your chances of making the insurance company payout, the higher your chances are of being dropped by the said company.
If you're looking for car insurance too, why not look at bundling with one of the companies we talk about in this article.