We write more about concealed carry weapons (CCWs) than we do probably any other weapon platform, other than an AR.
Every person has their own preferences, but if I didn't use a 12-Gauge shotgun as my primary home-defense gun, I'd use a full-size, high-capacity, and lightweight pistol. Whether you're familiar with a full-size 1911 platform or looking for a lightweight polymer pistol, we got you covered.
We took a poll in the office to discuss which pistols our former Special Forces, Rangers, and Marine vets use as their home defense pistol. This list of 5 pistols represents the best home defense gun, according to Clandestine Media Group and RE Factor Tactical.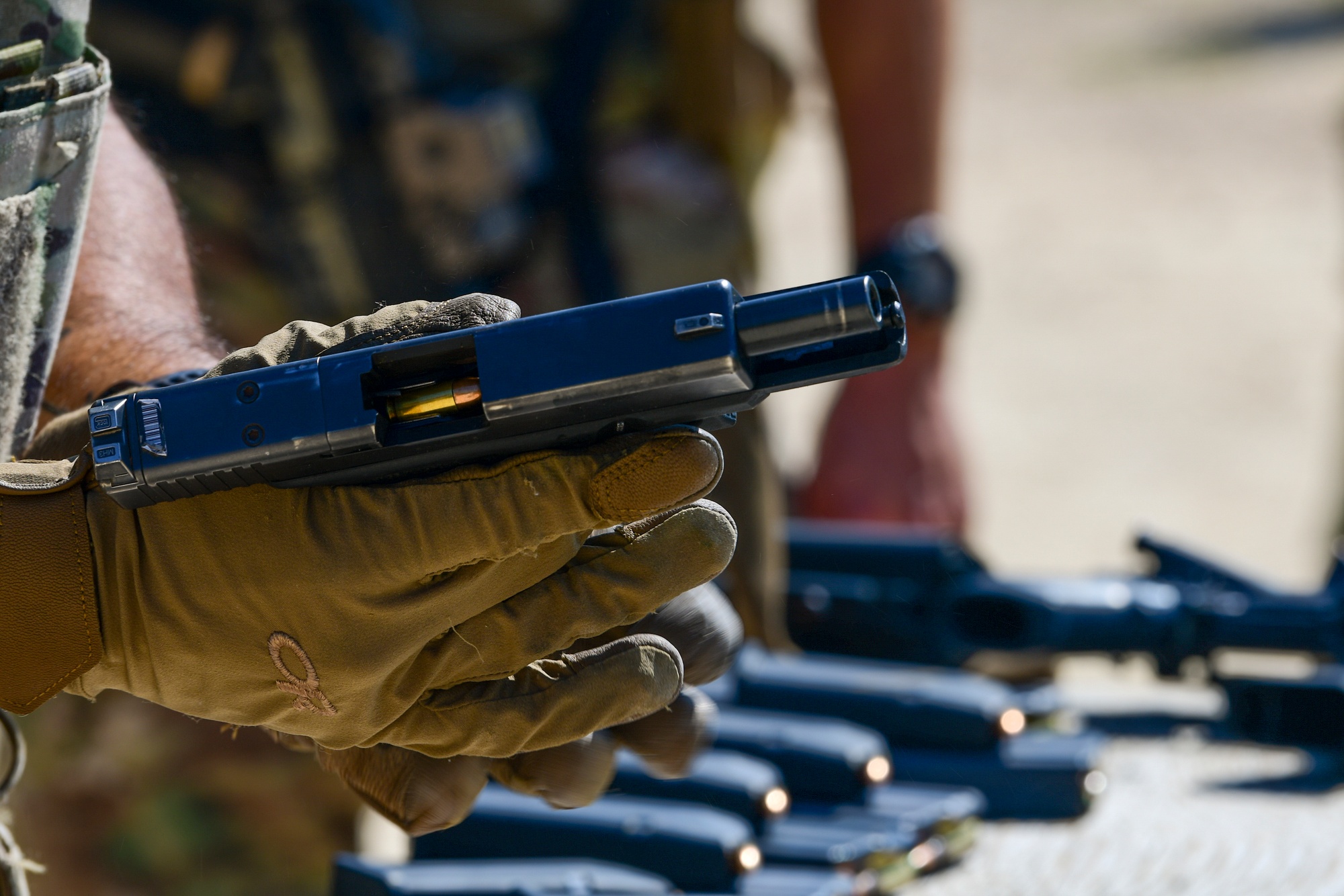 What is the Most Effective Weapon For Home Defense?
As a guy with a toddler and a wife at home, nothing is more important to me than holding down the fort to protect my family. When discussing the best o most effective guns, I think it's all relative to each individual shooter. For example, I will always suggest a 12-ga shotgun with #4 buckshot for my Stoeger M3500. However, many of my friends and co-workers prefer a full-size pistol or AR-15.
I always suggest a shotgun because of its simplicity, practicality, and chance of success under duress. For those who've never been in direct combat or had to defend their lives with force, the adrenaline and dopamine coursing through your veins will set off your fight-or-flight mechanism.
There are 2 types of people in these situations: those who "freeze" and lose their ability to think clearly, and those who use the adrenaline to act instinctively. With that in mind, using a shotgun is going to give everyone the best possible chance at hitting their target in a hallway or doorway.
The guys at CMG can train every week with thousands of rounds to maintain proficiency and muscle memory. If you don't have time to train like our guys do and want to use a pistol over a shotgun, you'll need a pistol with a high capacity, modular platform for an RDS or light/laser combo, and lightweight trigger pull.
Why Did I Choose The Following 5 Pistols?
Each of these pistols below has proven to be reliable, modular, accurate, and durable. I'm sure there are many criteria you'll see on what to look for, but those 4 attributes are what I use to buy guns. Reliability in a pistol is the most important feature next to accuracy, but they go hand-in-hand.
With the hundreds of aftermarket companies selling pistol parts and attachments, there's no reason to buy a pistol without modularity. The coating of the pistol slide and barrel often shows the durability of the pistol, especially with weather resistance and corrosion.
Every pistol on this list has been owned or operated by CMG and recommended by our team of professionals. I will not put a numbered list because any pistol you choose here will be one you're happy with. We hope you enjoy and remember to share your thoughts in the comments section.
Canik TP9SF
The Canik TP9SF features a new barrel finished with Cerakote-over-Nitride for optimal durability and dependability. The Warren Tactical sights are blacked out and the TP9SF model comes with a white dot front sight. However, you can (should) replace the white dot front sight with a fiber optic front sight for quicker target acquisition. The trigger is really light and nice with a 5-6 lbs. trigger pull and a single-action design that has been coated in nickel for durability and reliability.
The Canik TP9SF is great for home defense because you can carry 18 rounds in this pistol and the longer 7.5" frame absorbs the recoil more than a CCW. Establishing fire superiority is always one of the most important steps in a firefight.
An 18-round magazine with a light single-action trigger will allow you to quickly establish fire superiority versus most pistols people carry. I recommend placing a light or laser on the Picatinny rails underneath the barrel to add to either accuracy or to blind the target with a bright white light.
Specs
| | |
| --- | --- |
| Length | 7.55" |
| Barrel Length | 4.46" |
| Width | 1.30" |
| Height | 5.70" |
| Weight | 28.4 oz. (1.78 lbs) |
| Mag Capacity | 18+1 |
| Caliber | 9mm |
| Sights | Warren Tactical sights |
| Safety | Loaded chamber indicator, Striker indicator |
| MSRP | $449.99 |
Pros
18-20 rounds capacity is incredible!
A loaded chamber indicator provides a secondary safety mechanism to let you know if you forget to clear your chamber.
The trigger feels like a flat trigger with how quickly it breaks and resets.
Warren Tactical Series has been a favorite of the military, law enforcement, and competitive shooting.
Match-grade barrel with a Carakote finish with the new FDE model. It makes a big difference in the barrel's life from normal wear and tear and aesthetics.
The magazine catch is ambidextrous to fit on your right or left hip.
Affordable at low as $397.99 at Guns.com.
Picatinny Rail System
Cons
The grip texture isn't good enough without the addition of Talon Grip or other grip textures.
My hands are smaller than the average guy's, so the gun sits higher in my hand, causing me to have stability problems as I shoot.