Gun Sales have been going through the roof since the beginning of the Coronavirus pandemic. Every state in the country has seen shops sell out of guns with nothing new coming in for the next few months, at least. Luckily you have Palmetto State Armory who has guns left in stock for your orders and will be shipped to you within the week. I have created a list of 5 handguns that are still in stock at Palmetto State Armory. Don't waste any more time trying to figure out if you need a gun, because these guns will not last very long.
BERETTA 92G ELITE LTT 9MM
As many of us know, Beretta is one of the most iconic handguns in the United States due to its exclusive contract with the United States military. Every soldier that has gone through training has at least shot a Beretta 92F (M9). The reason the military chose this pistol is the multiple safety features that prevent it from being accidentally fired if it's dropped or the trigger gets caught on something (a tree branch, clothes, etc…). I have always hated the M9 because the trigger pull is way to heavy and there are so many other pistols that are better (Glock, Sig, Walther). The 92G Elite Langdon Tactical Technology (LTT) provides all of the features that people love in a Beretta with an incredible trigger and significantly improved frame. Essentially, Landon put the Vertec slide with the dovetail sight on the lighter M9A1 Frame for an overall lighter and easier to control pistol. This is the best Beretta pistol on the market and will make any gun owner happy with its upgrade by Langdon.
Specs:
| | |
| --- | --- |
| | Beretta 92G Elite LTT |
| Caliber | 9mm |
| Barrel Length | 4.7″ |
| Overall Length | 8.5″ |
| Height | 5.4″ |
| Width | 1.5″ |
| Sight Radius | 6.1″ |
| Weight | 2.08 lbs |
| Magazine Capacity | 10+1 |
| Action | DA/SA |
| Trigger Pull Weight | 7.7 lbs DA/ 3.1 lbs SA |
| MSRP | 998.00 |
| | |
| --- | --- |
| Pros | Cons |
| Vertec frame is lighter | Very expensive |
| Less felt recoil | This is still a very long gun, making it difficult to conceal |
| dovetail front sight gives a much better sight picture | This pistol can be very heavy when loaded versus any Glock or Walther you can buy in the same class |
| Less snap on the front end, allowing for quicker follow up shots | |
| Great trigger pull weight versus all other Berettas | |
| Front cocking serrations for an additional method of chambering round | |
| Shorter Barrel than the 92F allows you to clear your holster faster | |
| The LTT removed the lanyard loop and replaced it with a flush mainspring cap | |
| Ultra-Thin VZ/LTT G10 Grips brings the checkering higher than any other grip on the market for shooters with larger hands. | |
| Much better ergonomics than the 92F | |
| Great magazine capacity | |
Why Should I Buy The 92G Elite LTT Pistol?
If you like the traditional feel and safety features of Beretta, but don't like the feel of the 92F, this is the pistol for you. Instead of having a few nice features and excluding others, the LTT has it all. With a much-improved trigger pull, lighter frame, smoother slide, and a significantly improved grip, the 92G Elite LTT is the most complete Beretta pistol I have ever seen. All of my gripes and complaints about Beretta are fixed with the 92G model, making this a gun to own if you're in the market for a great, dependable pistol during tough times.
CHIAPPA RHINO 40DS .357 MAGNUM 4″ REVOLVER
As Americans all over the country scramble to find guns during this crisis, many are overlooking the benefits of a supremely more powerful gun.  I understand the purpose of a 9mm, but they are often sold out because they're the most common caliber. The Chiappa Rhino is chambered in a .357 Magnum and powerful enough to punch a baseball size hole in your target. Besides the beautiful aesthetics of the Rhino, its only 1.8 lbs and the barrel is lined up perfectly with the grip, cutting down valuable target acquisition time. Many people look at the 6-round capacity as a negative, but with a .357 Magnum, you'll only need 1 hit to make a difference. The Chiappa is also known to have much less felt recoil versus other .357 Magnums and less muzzle rise, due to its lower bore axis.
Specs:
| | |
| --- | --- |
| | Chiappa Rhino |
| Caliber | .357 Magnum |
| Barrel Length | 4.0″ |
| Overall Length | 8.5″ |
| Width | 1.87″ |
| Sight Radius | 6.0″ |
| Weight | 1.87 lbs |
| Magazine Capacity | 6 |
| Action | DA/SA |
| Trigger Pull Weight | 3.1 lbs SA |
| MSRP | $949.00 |
| | |
| --- | --- |
| Pros | Cons |
| Lightweight for such a powerful gun | Expensive |
| lower bore axis versus every other.357 magnum, which provides better control and less felt recoil | Relatively heavy pull for double-action |
| Crisp lightweight trigger pull | |
| Picatinny Rail System on bottom of the barrel for easy light or laser attachment | |
| Aesthetically beautiful and unique | |
Why Should I Buy The Chiappa Rhino?
You should buy this revolver if you're hard-pressed to find a home-defense gun that still available on the market. Luckily, the Rhino is still in stock and can be shipped within the week for your convenience. Buying from Palmetto State Armory will save you around $200 upfront and about $250 f you're a Veteran or police officer. The Chiappa is expensive, but it's more than enough power and is made exceptionally well. I always recommend having different calibers in your collection to have multiple options against different threats.
CIMARRON EVIL ROY .357 MAGNUM SINGLE ACTION REVOLVER
The Cimarron Evil Roy is built from the same frame as one of the most iconic guns of the Wild West (Cimmaron 1872 Open-Top). The Evil Roy .357 magnum is a competition revolver built with extra-wide rear and front sights for optimal target acquisition. This model was enhanced by the one and only Gene "Evil Roy" Pearcey, who has won more SASS World Championship competitions than anyone else alive today.  The hammer and trigger bolt springs are designed for a much lighter, smoother, and crisp trigger pull that makes your shots more accurate.
Made along the lines of the classic peacemaker-style revolver, like those used by the professional shootists of the Old West, Cimarron's Evil Roy Competition SA has features favored by renown SASS World Champion and SASS National Champion shooter Gene "Evil Roy" Pearcey. What sets this sixgun apart from other single actions are the wide square-notch rear sight and wide constant width front sight, along with slim checkered grips for a better and firmer hand fit, and an action tuned in the U.S. by Cimarron's skilled gunsmiths. This fine tuning incorporates Cimarron's made in USA competition hammer and trigger/bolt springs that are lighter, smoother and permit a crisp, no-creep trigger pull, and improved internal parts to enhance reliability. Each Evil Roy six-shooter wears his SASS signature, roll engraved on the barrel.
| | |
| --- | --- |
| | Cimarron Evil Roy |
| Caliber | .357 Magnum |
| Barrel Length | 4.7″ |
| Overall Length | 9.0″ |
| Weight | 2.38lbs |
| Magazine Capacity | 6 |
| Action | SA |
| Trigger Pull Weight |  2.5 lbs |
| MSRP | $702.98 |
| | |
| --- | --- |
| Pros | Cons |
| Competition-grade revolver | Expensive ammo |
| Shoots in Single action, which gives it a lighter trigger pull | Big and bulky prevents it from concealing properly |
| Accurate up to 50 yards with ease due to the power of a .357 Magnum | |
| History buff's dream revolver with upgrades for today's technology | |
| Very Affordable | |
Why Should I Buy The CIMARRON EVIL ROY .357 MAGNUM?
I've never felt an easier trigger pull from a .357 Magnum revolver that doesn't snap your wrist back after every shot, until this gun by Cimarron. If you're a history buff, like me, this revolver carries a lot of historical significance from the days of cowboys and fights with Native Americans. This revolver is very affordable and easy to shoot with its enhanced trigger and recoil spring. As a home-defense revolver, I expect this gun to hold up against any intruder because the checkered grip is rugged and prevents sweat from loosening your grip on the gun.
FN FIVE-SEVEN FDE
FN has always made incredible pistols and I'm actually shocked that this and the HK P30SK are still available on Palmetto State. The price is probably deterring any panicked buyers from taking the plunge and buying one of the most unique and best-made handguns in the world. I do feel the trigger pull is a little heavy for a single action pistol, but it's shooting a heavier round and has more distance than a 9mm. There is no going wrong with any gun from FN as they are one of the premier gun-makers in the world, trusted by the U.S. military and NATO forces for decades.
| | |
| --- | --- |
| | FN Five-Seven FDE |
| Caliber | 5.7x28mm |
| Barrel Length | 4.7″ |
| Overall Length | 8.2″ |
| Height | 5.7″ |
| Width | 1.4″ |
| Sight Radius | 7.0″ |
| Weight | 1.36 lbs |
| Magazine Capacity | 20+1 |
| Action | SA |
| Trigger Pull Weight | 4.4 lbs SA |
| MSRP | $1,099.00 |
| | |
| --- | --- |
| Pros | Cons |
| MIL-STD-1913 accessory mounting rail provides customization opportunities | expensive ammo |
| Ambidextrous safety | difficult to find 5.7 ammo |
| Cold-hammer-forged barrel improves the accuracy versus stainless steel barrels using other techniques | |
| Front and rear cocking serrations allow you to manipulate your pistol in many different situations without the use of your fingers | |
| Chrome-lined chamber and bore allows for better accuracy and dependability when multiple rounds are being fired through the barrel | |
Why Should I Buy The FN Five-Seven FDE?
FN is trusted by members of every military inside NATO, including members of the US Special Operations Command (SOCOM). If Fn is good enough for these men, I assure you it's good enough for any application you'd use it for. Produced in Belgium, FN has spent its entire history on providing the best barrels and mechanics for all of their guns. I would buy this gun over most other pistols, even in calmer times than the Coronavirus.  With tremendous dependability and accuracy, you'll love the moment you spent $1,000 to protect your family from any danger you could face at home.
HK P30SK V3 9MM SUBCOMPACT PISTOL W/ NIGHT SIGHTS
If you'd ask me which of the 5 pistols, I'd buy from this list, the HK P30SK would be the winner because of the versatility in application. With an overall length of 6.4″, the P30 (SubCompact) is perfect for any style of concealment holster. Chambered in 9mm with a 10-round magazine, this pistol comes with interchangeable backstraps for any hand size. Used primarily as a law enforcement pistol, this HK comes with its patented Law Enforcement Modification (LEM) trigger that provides an incredibly smooth 4.5-5.4 lbs trigger pull every single time. As you train with this pistol, there will never be an inconsistency with the trigger pull or aim point, giving you the most practical pistol you could ask for. A loaded chamber indicator acts as an added safety feature to ensure you know every time your pistol is loaded.
| | |
| --- | --- |
| | HK P30SK |
| Caliber | 9mm |
| Barrel Length | 3.27″ |
| Overall Length | 6.42″ |
| Width | 1.37″ |
| Weight | 1.5 lbs |
| Magazine Capacity | 10+1 |
| Action | SA |
| Trigger Pull Weight | 4.5-5.4 lbs |
| Height | 4.7″ |
| MSRP | $711.00 |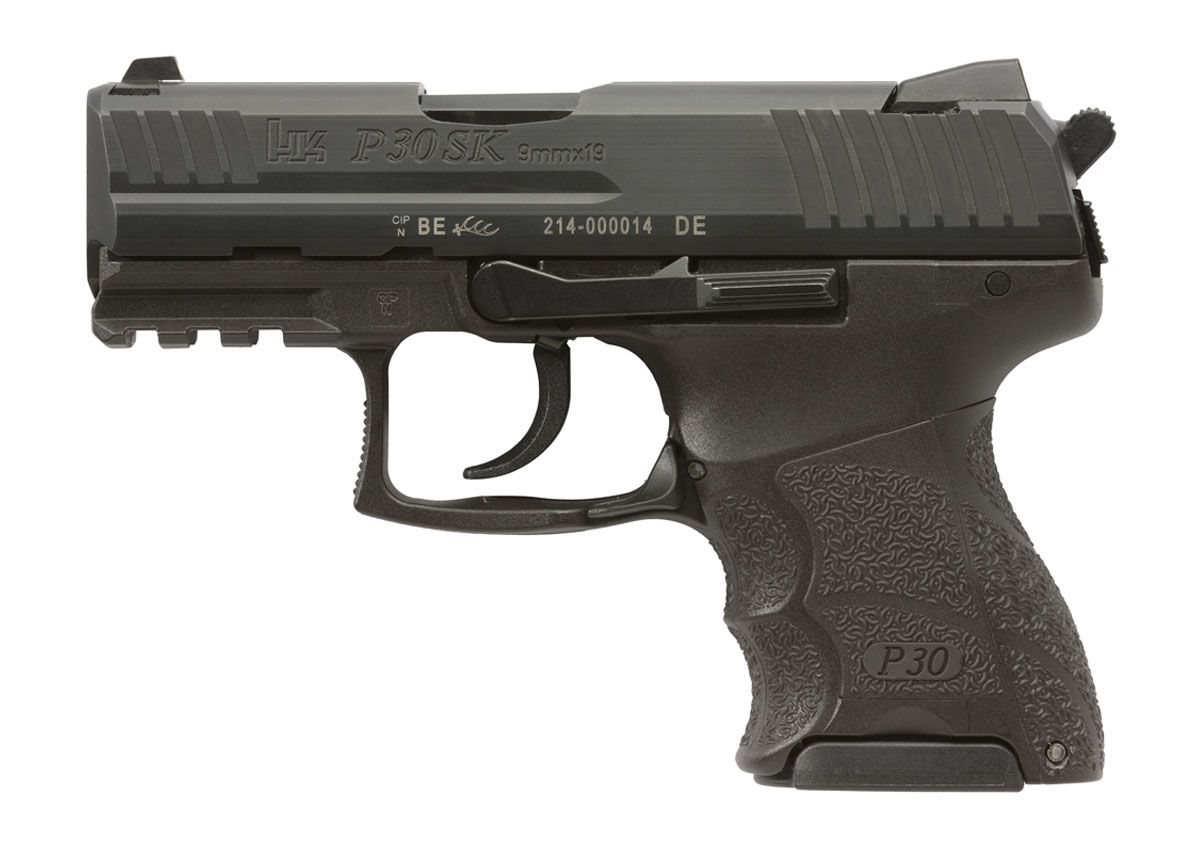 | | |
| --- | --- |
| Pros | Cons |
| Ambidextrous Slide Levers and Magazine Release offer comfort for both right and left-handed shooters. | The checkering on the grip could be higher to give shooters with bigger hands more surface area for added grip. |
| Black Polymer Frame with Picatinny Rail allows for customization with light or laser for easy attachment | |
| Luminous 3-Dot Sights glow green at night and shine a bright white color in the day | |
| De-Cocking Button allows the shooter to assess each situation with a round chambered | |
Why Should I Buy The HK P30SK?
The HK P30SK is the concealed carry model of the P30L, which gives you the utmost flexibility and dependability for a concealed carry pistol. This pistol is ambidextrous to give all shooters the ability to carry and shoot this gun comfortably. Heckler & Koch are one of the most sought after gun companies in the world because they've been on top of their game longer than anybody not named Browning.
Conclusion
As the world gets nervous about a possible apocalyptic pandemic, millions of Americans are searching for ways to keep their families protected. As we all are "social-distancing" in complete isolation in our homes, many of us are starting to consider the question of, "is my family protected in case of worst-case scenarios?" I urge everyone to remain calm, but if you're still in the market for a handgun and can't find anything because everyone is sold out, Palmetto State still has some handguns available. I chose these 5 guns because they're all more than capable of protecting your family against anything you could encounter in your home. Stay safe, America!