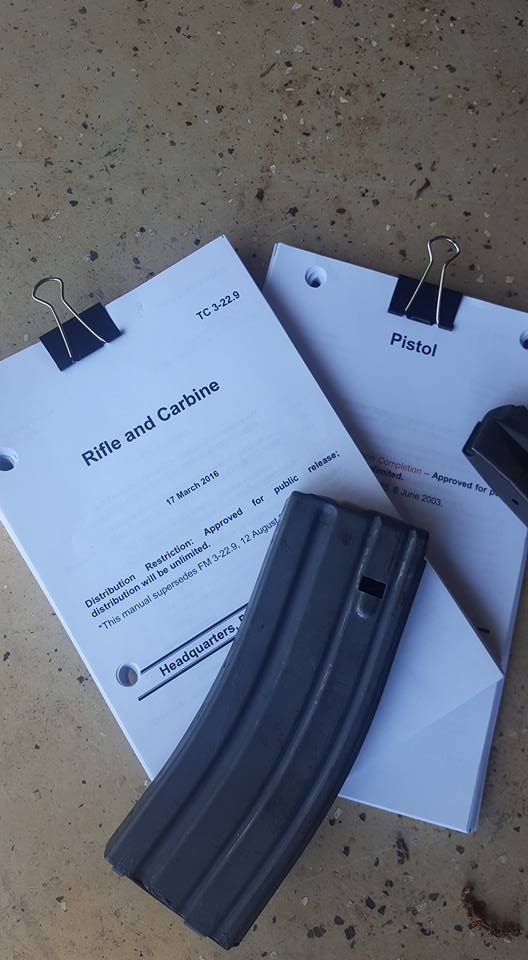 TC 3-22.9
Greetings to the readers of RE Factor Tactical's Blog. I am SFC Ash Hess and the Senior Writer for the recently released TC 3-22.9 Rifle and Carbine.
Last week RE Factor asked if I would like to do a write-up on the book, its development and what's next. I jumped at the chance as this will be my biggest opportunity to thank the group that indeed made it possible and let many people know what is coming next. It is best to give a little back story on the project that will allow you to see the scale of what was accomplished.
The Beginning
In 2012 I was given the guidance to build a course for the 10th Mountain Lightfighters School that matched the FM 3-22.9, was able to be duplicated by the graduates, and created highly skilled marksmen. This required me to truly dig into the FM and find ways to make the course teach the things I had learned at TigerSwan, from Kyle Defoor, the vast knowledge of Kyle Lamb, and many others. Therein the problem rested. FM 3-22.9 was a maze of training strategy, marksmanship techniques, positions and advanced skills. That manual had five different prone posts in it that were not based on combat, they were based on where in the training cycle you were. The pictures did not match the words, and the standing position had two variants based on range. This led me to make an attempt to get in contact with whoever at Fort Benning was writing the manual and ask some questions.
If you have been around the Army in any way, you know what happened next. I found the people who had more questions than I did despite them being tasked to work on the manual. These individuals were attempting to turn an aircraft carrier with a paddle, and the process was still in early stages. I maintained contact with them and met some of them in person two years later when I attended the newly formed Master Marksmanship Trainer Course. I also came down on orders for Fort Benning at nearly that same time. As fate would have it, I landed in the very office that was writing the new manual.
A short time later, I became the 27th NCO and 28th person to work on the 3-22.9. Imagine if you will a document that had been recycled since the late 1980's that had 28 people press their version of what was important and the most recent technique into that document. As you can imagine, it was not pretty. It was long, drab, and bounced from one subject to the next based on two years of meetings with various units, groups, and individuals.
I was determined to start completely fresh with some specific guidelines in place that were unavailable to the previous owners. This allowed me to gather a group of friends, colleagues, acquaintances, and ultimately some people who had been calling out my office about what we were doing. All of these people helped in some form or fashion craft and steered what would be published.
The most credit goes to the 10th Mountain, 82nd and 101st Master Gunners and marksmanship gurus. They have been involved since the 2nd day of the project. They steered, tested, calmed, and guided me on the path of building a book that best suited their needs. These guys spent hours poring over ideas and pages of things that I created. They took those things refined them and sent them back to me. More times than not they wondered if I had had a urinalysis recently but patiently made things smooth.
About the time we had a working product, a member of a state-level marksmanship unit was publicly saying that he had heard the new book was being written and since they were not involved it was going to be subpar. So I invited him and his people to be part of the group. Their input allowed us to see things from a state level and ensure that everyone would be able to apply the stuff we published.
Now firearms use in the Army is much like fitness on the outside. Everyone is an expert. Everyone has their favorite way of doing things, or favorite person to listen to. We had over 500,000 people on active duty and that many in the Reserves and Guard at the time. This makes a project like this harder in that everyone wants their way to be THE way.
These guys, which totaled about 20 total, provided great insight into training in the units. We combined this with most of the things that the US Army Marksmanship Unit wanted from the book. I will let you all know now that not one single person, let alone group, got everything they wanted from this book. Even the people who only wanted buy-in from one group didn't get that. What everyone got was a highly valuable book.
That leads me to the scale of this book. This book outlines the "how" we want over 1 million people to use the Rifle or carbine. That's 1 million people today. That number doesn't account for change over or the long term change over. When you have highly skilled, opinionated, and passionate people debating the proper way to say how to pull a trigger and you have to make it simple for millions of individuals to understand, it gets fascinating.
So there is the baseline for what I have been doing since March of 2015. Many people think that the published book has been in progress for eight years. In reality a year ago it was a name and a table of contents. With the collected knowledge of the group mentioned above combined with much typing and talking on my part resulted in a leap forward book which has been praised in may reviews since its release. It is easy to shoot. It is harder to teach shooting. It is harder to type about shooting, and hardest to get everyone to agree on what is typed. Despite many days of anger, meetings, passion-fueled lively debates EVERYONE had the best product in mind, and the Army is better for it.
The Book
Now, a thousand words into this, I can start to get into what the TC 3-22.9 is. It is designed from inception to be a Soldiers book. It does not cover how to run a range, qualification, or training strategy in it. We focused on what a Solider needs to know while shooting their rifle. ." any Soldier of any rank. A shooting manual if you will. It is cargo pocket-sized and as mentioned in RE Factors' review has some things that are missing. The goal was to have the important things laid out, so the individual has access to them in a building block format. The book discusses the rifle, the optics, the accessories, then once all that is taught, how to use all those things. We looked at the truth and how we taught those things. We settled on the Shot Process as our baseline. We pulled the shot process directly from the AMU and built upon that. We needed separation and decided to use Stability, Aim, Control, and finally Movement as the places to put all the information. This in itself is a simplified shot process that without tying importance on to things as is the habit, allows it to be taught in a sequence. First, you build a position and things like grip and Stockweld based on the weapon. Then you aim which is sight alignment and sight picture. Then you control the trigger and the multitude of other things that can have effects on the shot like focus. Movement describes how to take all this stuff and move. Moving has effects on stability, aiming, and control. It is critical to learn because offensive operations will require movement.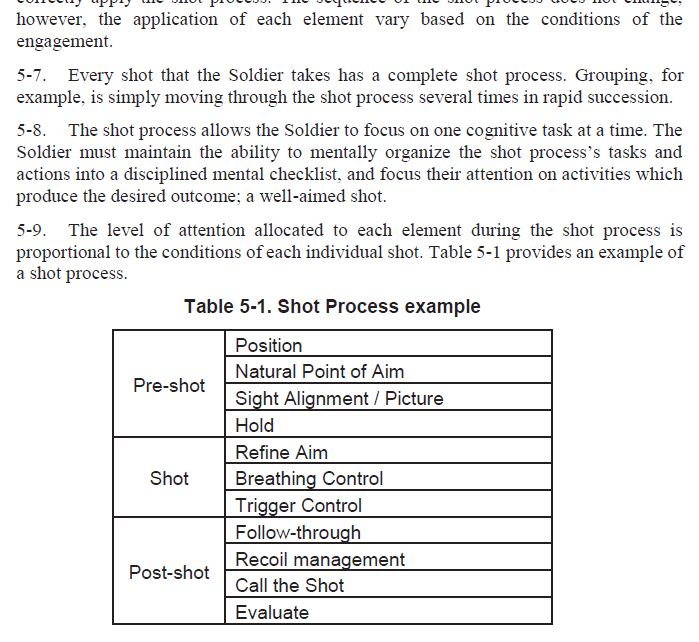 There are new things such as a different way to deal with malfunctions that we made as simple as possible in real language. We hoped that the NO BANG on the chart was self-explanatory to all that use the book, but as we found out recently, it wasn't. We didn't add pages of pictures and words to the book on malfunctions and reloaded.
As NCO's, we believe the NCO is the primary trainer in units. Rather than dilute the book with 30 techniques that a Soldier may or may not use, we saved some things for the next book.
What's Next
At this moment, we are in the early stages of building what is referred to as the "trainer book". This book will be "How to train all the things in the TC3-22.9". It is going to cover each phase and layout the best techniques to teach soldiers about the rifle or carbine, how to operate and zero their optics, what accessories do what, the shot process and how to make the best use of the things in the elements. Without having to explain all that in text, it frees us up to lay out the ways to see sight alignment with all sights, how to know a good position, when to use that position, and pros and cons of all.
It also allows us to allow leaders to select which reload matches their SOPs and teach the one they chose most important. An example is most units teach magazine retention on reloads. Some units do not teach that technique. This book will allow us to show both techniques without bias toward either. As for malfunctions, we now have space to lay out the entire process of reducing each type and allow the leader to show Soldiers via hands-on.
One of the coolest things about this book is the same group who developed the 3-22.9 will be testing and validating every word in the book. The group teaches courses on a daily basis, and we can test each line on Soldiers as we write it.
The final validation of that book will come from the Master Marksmanship Trainer Course. This course is the TRADOC built course that was spearheaded by the US Army Marksmanship Unit and is in the final stages of validation itself. This course will serve as the baseline for marksmanship instruction in the future much as the Master Gunner School does for Armor and the MACP does for combative.
This book should be finished by September of this year and will go through the publishing process with a hopeful publish of late 2016 or 2017. The time it will take is in the testing of every word and the fact that MMTC is five weeks long.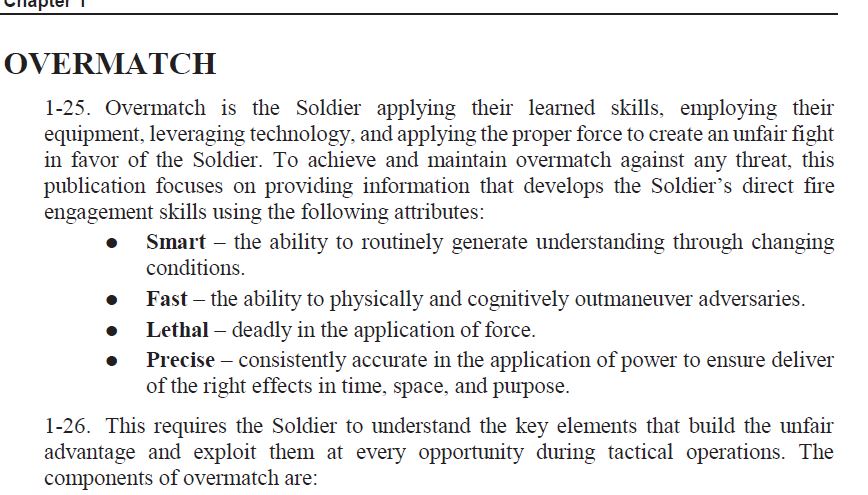 In Closing  
The Army has taken a keen interest how we use weapons over the past few years. Improving it is interesting and was littered with institutional inbreeding, ego, passion, haste, laziness, and moments of epic frustration. This is exactly what you want a book to go through that million of Americans could take to the battlefields of the future. We owed the American people, her sons and daughters, and all those that came before us the best product we could make. All the people I mentioned in this process made that happen. Their skill and professionalism made it possible. Hopefully, this has given some insight into the process and the future.
SFC Ash Hess
Weapons and Gunnery Branch
Directorate of Training and.Doctrine
Maneuver Center of Excellence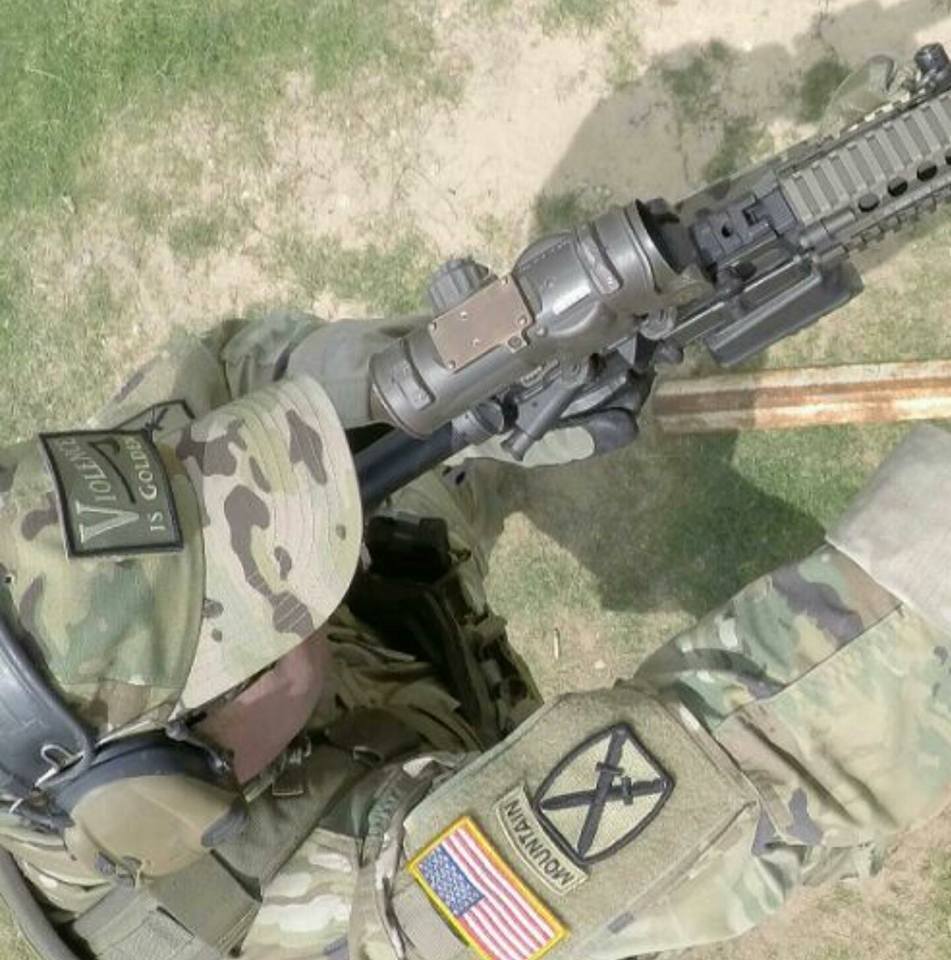 About SFC Ash Hess
I am a 20+ year Cavalry Scout with four tours overseas. I am a graduate of the Master Marksmanship Trainer course, The 75th Ranger Regiment's Small Arms Leaders Course, and Ranger Marksmanship Instructor Course; I was the primary developer of the 10th Mountain Divisions Rifle Marksmanship Instructor course, Urban Operations Course, and Machine Gun Leaders Course.
I have been to multiple civilian courses from Defoor Proformance and TigerSwan.
I am currently the Senior Small Arms Writer for the MCoE and primary writer of the TC 3-22.9 Rifle and Carbine, TC 3-22.35 Pistol and overseeing the revamp of TC 3-23.10 Sniper Operations.