Hunting rifles and long-range shooting rifles are some of the most fun topics to write about. Writing about the rifle scopes themselves are even more fun because everyone wanting to shoot out past 100 yards is going to need one. However, you don't often get to see rifle scope rings mentioned in any blog post you see online.
This blog is dedicated to the most necessary piece of equipment that nobody seems to think of when purchasing a rifle. We will discuss the top scope rings on a budget, the best overall scope rings, and why it's important to do some research before you buy one.
What's a Scope Ring?
A scope ring is an attachment that most of us use in order to securely place our riflescope on top of our rifle. Scope rings fit around the riflescope and are most likely attached to a Weaver or Picatinny rail system. Scope rings are fitted to the scope through screws that are tightened to ensure the riflescope stays secure through movement and accidental drops or contact with rocks or branches.
Do I Need Scope Rings?
Yes, every rifle that I've ever seen or shot has had scope rings to mount the scope onto the rifle. Without scope rings, you're not going to be able to stabilize the riflescope and secure it to your rifle.
How we rate our Scope Rings
To keep this as simple as possible, we rate our scope rings based on 3 criteria that determine a high-quality scope ring. We believe that reliability, durability, and the overall Price of the scope ring are the main things to focus on. Each of these criteria is rated with a number between 1-5, with 5 being the best. For the sake of this blog, you won't find any 1's because that's a waste of your time to read bad product reviews.
Reliability
The first-ever hunting rifle I bought and shot in the field was a Remington 700 BDL. I was so proud of Remington and excited to hunt with it that I quickly bought a Leupold VX-5HD scope and the recommend scope ring with it. As I went to the range to zero in my scope and a new rifle, I had no problems and my Remington was true to form with a sub MOA at 100 yards. My first hunt, I had lined up a 6-point buck at about 120 yards in the Golden-Hour, so I knew I probably only had one good shot to take him. As I took my shot, I couldn't even tell where the bullet went, but I knew it was nowhere close to the deer.
As I tried to lick my wounds and repair my pride, I noticed that the screws on my scope ring were loose and one was completely missing. I realized that the 3 1/2 hours of walking into the mountains rattled my scope ring screws loose.
My first lesson was I should have known that a $20.00 scope ring was not the best of choices.
Secondly, the type of screws your ring has is important and will throw your zero off if they don't fit your rifle.
Finally, I learned that the type of metal used in your scope ring can make the difference between a secure placement and one that rattles after a few hours in the woods or mountain tops. Each of the scopes rings we listed below will ensure that you don't suffer the same fate as I did, as long as you follow the instructions and take reasonable care of your rifle during your hunt.
Durability
Similar to your rifle, the durability of your scope ring is paramount to the longevity of your weapon system. If your scope ring isn't durable you'll suffer the same consequences that I suffered during my first hunt. Each of these scopes rings below can handle the wear and tear of your hunt through the backcountry or high in the Colorado Mountains. They can handle the rain, snow, sleet, and any other moisture without degrading faster than they normally would.
Price
I'm a firm believer in you get what you pay for, especially when it comes to firearms and accessories. However, there are many rifles, scopes, and scopes rings that are not overly priced and work great. Most of the time products are more expensive due to the type of metals, plastics, and technology put into making them. For example, if you want a CNC-Machined scope ring and a higher quality metal, you're going to pay more for that. The following scopes rings are the ones we recommend for hunters and shooters on a budget and a few scope rings for those with deeper pockets.
Best Scope Rings on a Budget
Picatinny Scope Rings (2 Piece)
Wheeler is one of those companies that specialize in rifle accessories instead of trying to build rifles and everything that comes with them. They're able to keep their entire focus on the scope rings, mounts, and gunsmithing tools. This level of focus ensures their products are of the highest quality and durability.
This 2-piece ring system will fit onto any Picatinny rail system with its 6-screw design. It's designed to have increased clamping force to ensure your riflescope never moves during shooting or hiking through the backcountry. It features an anti-cant mechanism to keep your gun level, especially during your longest shots.
I highly recommend either reading your instructions manual or emailing the rifle scope company and asking them if this scope ring will fit your riflescope before you buy it. 
Specs:
Centerline height from top of rail:
0.775 in Medium – 0.950 in High
1.100 inches
Pros:
Fits any Picatinny Rail System
Fits 3 different tube sizes: 1″, 30mm, 34mm
Great price ($60.00)
The anti-cant mechanism is a great touch
Great customer service
Cons:
There have been many complaints about the accuracy of the anti-cant mechanism. I haven't seen this problem, but some have. I'd recommend documenting it asap and getting back to them.
2-piece systems generally have a harder time staying stable than 1-piece systems for heavier caliber rounds.
Some reports of the screws not being insecurely fastened, but this can be fixed with a quick equipment check before you place it on your rifle.
Rating: 4/5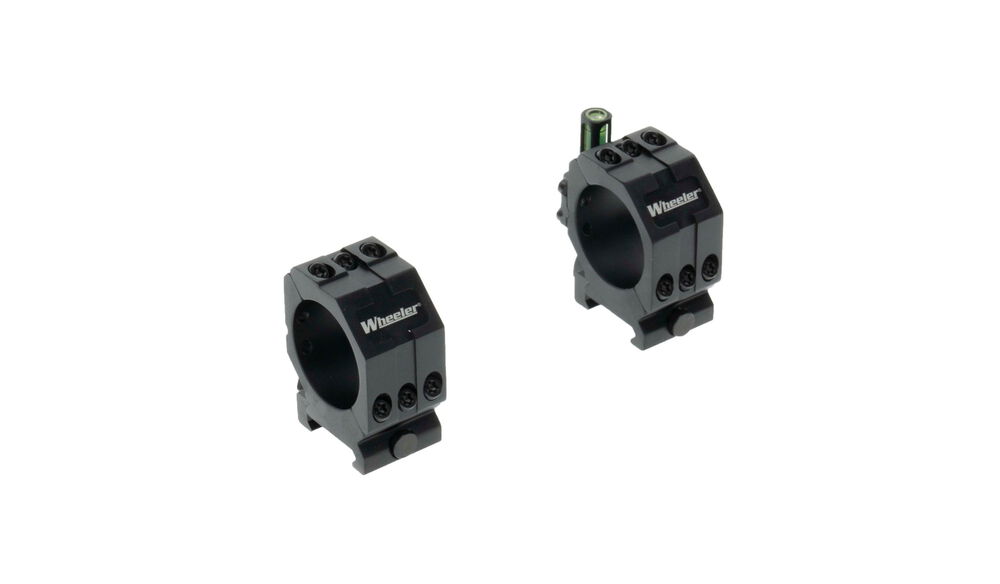 2.

Vortex Optics Pro Series Riflescope Rings
Vortex Optics has earned its reputation for having some of the best optics and equipment on the market. The Vortex Optics Pro Series rings are made from Type 2 Matte Black Anodized steel, laser engraved torque specs, and built with an integrated recoil lug to ensure stability during shooting. This 2-piece scope ring system uses 4 T-25 Torx-style socket cap screws to ensure maximum stability.
The pro series is designed to be lightweight and durable while maintaining the reliability that has given Vortex its good name in the industry. This is a great option if you're wanting to save a little money and get a product from a company you know you can trust.
Specs:
Centerline height from the base of rail for 1″ model:
0.75 inches in height

Weight (Per Ring): 39.9 Grams – 1.41 oz
Pros:
Made in the USA
Two different sizes: 1″, 30mm tubes
Type 2 Matte Black Anodized steel is very durable and prevents wear from scratches or debris
Great company history
Fits most Weaver and Picatinny Rail systems
Great Price ($60.00) 
Cons:
No Anti-cant system to ensure your rifle is table through your longer shots.
Rating: 4/5
3.

Leupold Permanent Weaver-style Cross-Slot Scope Rings
Leupold is my favorite company to buy riflescopes from because I can't think of a product that I've ever bought from them that has been bad.  I think of Leopold as the Apple of optics and accessories. You're almost always going to spend a lot of money on these products, but you're always going to get your money worth. The original PRW Weaver-style rings are the most affordable option you can find with the name brand on them.
The PRW is built from steel and uses the cross-slot design to increase stability and retention inside the scope rings. These rings are meant specifically for shotguns and lighter rifles that fit only Weaver rail systems. I chose to include these scope rings because even if they're designed for shotguns, they can easily fit onto almost any base available on the market. It's a way to save a little money and get a trustworthy ring mount for shooters who don't get out as much.
Specs:
Centerline height from the base of rail for 1″ model:
.73 inches in height
4.3 oz overall weight
Pros:
Very affordable at $51.90
The cross-slot style rings are very sturdy and secure the scope incredibly well
Leupold is one of the best companies in the world when it comes to scopes and accessories
Cons:
A lot of complaints about the quality of steel used in these rings
Many complaints about the effectiveness of the smaller screws
These rings are incredibly heavy!
Rating: 3.5/5
Best Scope Rings for an AR-15
Wheeler Scope Ring- 1 Piece Cantilever Scope Mount
Anytime you put a scope ring on your rifle, you're ensuring that the scope will always remain secure to your rifle and be able to absorb the shock of the rifle operation. Wheeler Scope Rings are incredibly well made and feature their patented anti-cant design. I always prefer a 1 piece design because it's able to absorb the shock better, in my opinion, and tends to be more secure. The Wheeler Cantilever scope mount is meant for your AR-15 scope and features the same 6-screw assembly that fastens the scope to your rifle likes it's molded to the top.
Specs:
Centerline height from top of rail:
Price of Wheeler 1-Piece Cantilever Scope Mount
$77.00
Pros:
Fits any Picatinny Rail System
Fits 3 different tube sizes: 1″, 30mm, 34mm
Great price ($77.00)
The anti-cant mechanism is a great touch
Great customer service
Works perfectly with any AR-15 with a Picatinny Rail
Cons:
There have been some complaints about the quality of screws, but I think that's very far and few between.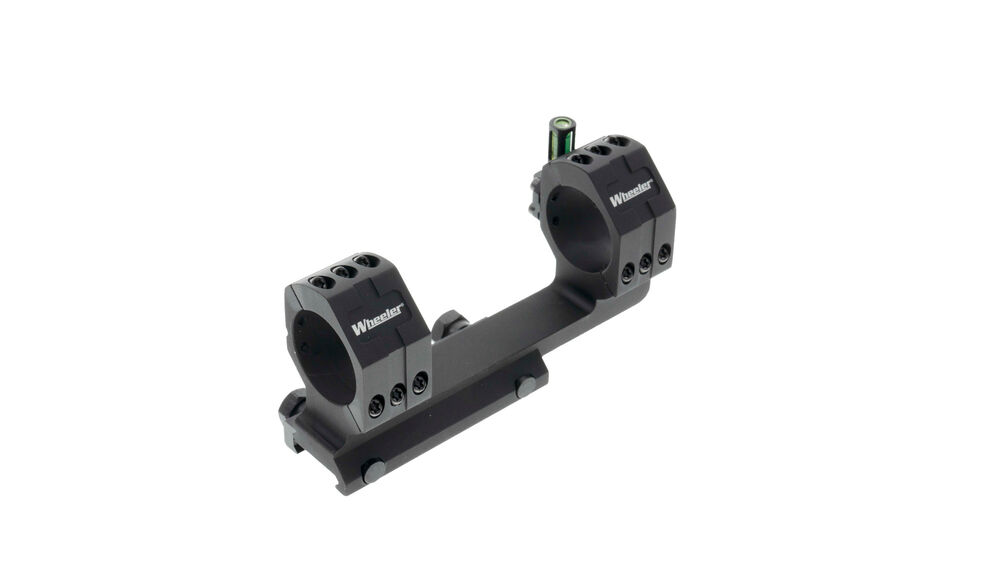 Rating: 4.7/5
2.

Burris Optics P.E.P.R. Scope Mount
The Burris Proper Eye Position Ready (P.E.P.R.) mount is meant to provide natural and great eye relief on your AR-15. The P.E.P.R. scope mount provides 2″ of forward positioning to accomplish the perfect eye relief for your scope. It also includes both smooth and Picatinny ring tops to allow for optimal customization for any style of AR-15. The 1-piece ring mount is perfect for absorbing the shock of the semi-auto operation and doesn't budge at all. It's a little more expensive, but I think it's well worth the money if you use an AR-15 a lot. 
The Burris P. E. P. R. mount is perfect for mounting your scope forward on your personal protection rifle.

The Proper Eye Position Ready (P.E.P.R.) mount provides 2″ of forward scope positioning room which will allow you to obtain proper eye relief and maintain a proper shooting position.

Provides optimum eye relief and a full field of view helping to improve your accuracy

Includes both smooth and Picatinny ring tops for complete customizability

Choose between the standard attachment style or the quick detach option which allows you to quickly remove and replace your optic

Current Model: 410341 – 30mm Permanent Attach
Pros:
Best eye relief of any scope ring
Tremendous versatility for many different AR-15 rifles
Has 2 attachment types for either a quick-detachment or standard attachment option
Incredibly durable under any environmental condition
Cons:
Expensive for an attachment
Only fits 30mm tubes
Rating: 4.5/5
3.

Nikon Black Precision 1Piece
Nikon is most known for its world-renowned cameras and technologically advanced lens. However, they also produce great accessories to fit those lenses, scopes, and cameras. The Nikon Precision 1-piece ring mount is absolutely incredible and unique. It features a dual integral ring design that forces the scope ring to have more contact with the scope. this ensures the scope is as sturdy and secure as possible.
What brings up the price of this scope ring is the 6061-T6 Aircraft-grade aluminum that it's made of and finished with a non-reflective black anodized coating for maximum durabilty. This is the most expensive scope ring on the list, but if you have deep pockets, you'll never look back or regret this purchase. 
Dual-integral-ring design offers maximum scope tube contact

Precision-machined from lightweight 6061-T6 Aircraft-grade aluminum

Non-reflective black Anodizing

Mil-Spec 1/2 inch Hex nut clamp accepts 65 in/lb of torque

Top caps Use #8 Torx-style fasteners with non-slip steel inserts
Pros:
Precision-machined from lightweight 6061-T6 Aircraft-grade aluminum

Non-reflective black Anodizing

Mil-Spec 1/2 inch Hex nut clamp accepts 65 in/lb of torque

Top caps Use #8 Torx-style fasteners with non-slip steel inserts
Cons:
I think it's just a little too expensive for me
Rating: 4.5/5
Conclusion
Scope rings may not be the sexiest topic to discuss, but they're integral to a proper rifle set-up and must be used with a riflescope. We've included our ratings of each of these scopes, based on their durability, reliability, and price.  Our list is meant to ensure whether you're shooting an AR-15, shotgun, or hunting rifle, you always have the best information about the top products on the market. We hope you've enjoyed our blog and encourage all readers to let us know how we did. Happy Hunting!